Great Video Example of a Chain Reaction of... →
Thank you to my old college buddy, Kevin Blackhurst, for sharing this brilliant video that wonderfully illustrates the chain reaction of kindness.
16 tags
Congratulations to......
……all of those small college teams that made it all the way to the National Championship game.  Here's a list of all of the Small College Basketball National Championship games, with scores and National Champions. NCAA Division II Drury defeated Metro State, 74-73 NCAA Division III Amherst defeated Mary Hardin-Baylor, 87-70 NAIA Division I Georgetown defeated Southwest...
The Lump In My Throat
I just got the first lump in my throat from the 2013 basketball postseason. Let me first mention that I am an alum of the University of Delaware.  I'm a Blue Hen.  As such, I have a decent understanding of what that school, and the athletic success, means to the school, the community and the whole state.  There is tremendous pride among the Blue Hen family. As such, Elena Delle Donne grew...
6 tags
NCAA Division II & III National Championship...
The NCAA Division II Tournament is now down to the semi-finals.  Tomorrow (Saturday) it will be West Liberty State vs. Metro State at noon, followed by Western Washington vs. Drury at 2:30.  The games will be played in Freedom Hall in Louisville and the National Championship game will be played in Atlanta as part of the 75th Anniversary celebration (of NCAA Basketball National Championships). The...
One on One, by John Feinstein
I realize that this has little to do with Small College Basketball, but just wanted to drop a note about a book that I just finished last night, One on One, by John Feinstein. As many of you are aware, Feinstein is among America's most renowned sportswriters.  This book was an easy and enjoyable read, recapping the 25 years of his sports journeys since his inaugural book, Season on the...
March
For basketball coaches, players, fans…..this is just such a fun time of the year.  Whether you're following the USCAA, NCCAA, NAIA (tournaments that have recently finished) or NCAA Division I, II or III, there is just so much excitement, passion and emotion at this time of year.  Take a moment to just enjoy this wonderful time of year! Enjoy the passion and emotion of college...
10 tags
NCAA Division II Elite Eight
The NCAA Division II Elite Eight is set.  Quarterfinals will be played on March 28, with the Semifinals being played on March 30.   The Quarterfinals and Semifinals will be played in Louisville, KY.  The following Sunday, on April 7, the National Championship game will be played in Atlanta as part of the NCAA's 75th Anniversary (of basketball championships) celebration. As many of you that...
2013 NAIA Division I Men's Basketball National...
Congratulations to Georgetown (KY) College for defeating Southwestern Assemblies of God (SAGU), 88-62, to win the NAIA Division I Men's Basketball National Championship.  Congratuations to SAGU for an outstanding season, finishing 33-5 and making the school's first-ever National Championship game. Georgetown College Head Coach Chris Briggs just won his first National Championship in...
NAIA National Semi-Finals
Last night provided one of those moments where you'll remember "where you were and who you were with" when "it" happened.  In my case, I was in Municipal Auditorium, in the Southeast corner on the second level walkway with Steve Knight and Tracy English, the coaches at William Carey University. The "it" was the 25-foot shot hit Georgetown's Monty...
St. Mary's
How about this for a wild collegiate basketball scenario?!: St. Mary's (CA) is playing in the NCAA Division I Tournament. St. Mary's (TX) is playing in the NCAA Division II Tournament. St. Mary's (MD) is playing in the NCAA Division III Tournament. St. Mary's (KS) just played in the NAIA Division II Tournament. St. Mary's (NE) just played in the NAIA Division II...
5 tags
The NCCAA and the USCAA
As I sit here on Selection Sunday, I've been meaning to write about the NCCAA and the USCAA.  I decided that tonight is a good night, as this fits tonight, in a weird sort of way. You see - and this is quite obvious - I just love college basketball and really enjoy this time of the year.  I enjoy all levels of college basketball, whether it's NCAA Division I or the NAIA.  I love the...
NAIA Tournament Notes
Yesterday, I saw several outstanding games. Culver Stockton was surprisingly good.  It was my first look at them this season, and several coaches had mentioned to me that they were legitimate, but they were playing Concordia - the defending National Champions.  Culver Stockton controlled the game and pulled away midway through the second half.  The difference in the game was Marshawn Norris, the...
4 tags
Pikeville Coach Kelly Wells & Athletic Director...
You'll notice that I'm a bit careful about writing about personal conversations with coaches, administrators, etc., as I've been a coach and I've been an administrator, and many of these folks are friends.  Many outstanding people.  I mean, just first-class people.  If I do reveal something from our personal conversations, it's either public information and/or...
9 tags
Random Thoughts
Random Thoughts: *  Congratulations to Jim Poteet, who is attending his 50th consecutive NAIA Division I Tournament this year. *  Congratulations to Fresno Pacific's John Taylor on breaking the school and conference single game scoring record with 50 points in their win over Roberts Wesleyan in the NCCAA Division I Tournament. *  Certainly, I haven't seen all of the NAIA Tournament...
4 tags
Small College Basketball - Tourney Time!
What a fun stretch of college basketball!  For those that really enjoy Small College Basketball, we're in the midst of an incredible time.  Think about this:  Today there are another 8 games at Municipal Auditorium for the NAIA Division I National Championship.  Today is the second round of the NCCAA Division I National Championship.  Tomorrow is the first round of the NCAA Division II...
29 tags
Ramblings (off the top of my head) about the NAIA...
So this will be my first year in Kansas City where I'm not serving as the Director of the NAIA Division I Men's Basketball National Championship……. wanted to tell you a little bit about WHY the NAIA Division I Tournament is special today.  I could write on this topic for quite some time (I actually wrote the Foreward for a book on this topic not too long ago - National...
Comments on the Coaching Carousel
It's that time of year when the coaching carousel has begun.  For the next month, there will be a great deal of coaching changes at all levels of college basketball.  You'll see them in the transaction section of papers throughout the country.  You'll see the job posting on the NCAA, NAIA and various other websites.  There will be a tremendous amount of action in Atlanta at the...
Twitter
While I will be posting multiple blog posts over the next few weeks, I also want to encourage you to follow along on Twitter @smcollegehoops, as I will be tweeting or retweeting 100 - 250 tweets over the next 2-3 weeks.  As you are aware, there will be a tremendous amount of tournament action within Small College Basketball.  That's @smcollegehoops. 
6 tags
NCAA Division II & III National Championships
As part of the 75th Anniversary Celebration of the NCAA Basketball, the NCAA Division II and III National Championship games are being moved to Atlanta to be part of the Final Four.  Both games will be held on Sunday, April 7 at Phillips Arena in Atlanta.  The Division III game will be held at 12:30 p.m., and the Division II game will be held at 4:00 p.m.  Admission to each game is free. ...
March
I just love this time of year! So much great college basketball going on…..The NAIA Division I bracket was announced last night.  The NAIA Division II Tournament is in the midst of its second day.  The USCAA Division I and Division II Tournaments have been completed, and we have two new National Champions: Warren Wilson and Rochester College. The NCCAA Tournaments are about to take place...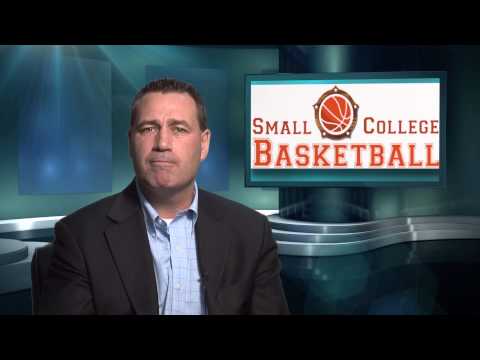 4 tags
Congratulations to......
…..Coumbia College (MO) on the only perfect season within Small College Basketball.  (Metro State and Western Washington were the two undefeated teams in NCAA Division II, and both fell during the past week.  Metro fell at Fort Lewis and Western Washington fell at Alaska Fairbanks.)  Columbia College is coached by NAIA Hall of Famer Bob Burchard and just finished the regular season with a...
Anonymous asked: What about Bloomer Sullivan of SE Oklahoma. Never one the big one,finished second I think three times. Went to the tournament 13 times in 31 years. Coach of the year in 1957. At one time he was second in the nation behind Henry Iba, and in front of Rupp in games won. He won 662 games lost 222. Giving him a very high %. He's my grandfather.
3 tags
Todd Starks
Todd Starks?  Who is he? You've probably never heard the name, but Starks is a 6'1" senior guard from Memphis, who now plays for Lindenwood-Belleville University.   He's probably one of the best Small College Basketball players this year that you've never heard of…….so why don't you know about him? Here are a few reasons:  *  He is a small college...
Kindness
I recently posted a reminder about The Ripple Effect of Kindness on LinkedIn, and I wanted to share a comment from that post. Without using the name of the person who posted, here is the response (I only edited to tweak grammatically, not to change any intent or meaning): I believe that great acts of kindness have saved people's lives. I have a friend whose kindhearted daughter, prior to...
23 tags
Rivalry Week......Where Are The Rivalry Games In...
I'm sitting here watching the Duke-Carolina rivalry, with much going through my head, so I thought that I would type. I'm thinking that tomorrow is Valentine's Day, and I want my family to have a great day. I'm thinking that it's just been a wonderful, thrilling week for college basketball.  Have you been watching these games?  I mean, seriously.  Did you see the Notre Dame-Louisville game?  5...
16 tags
Basketball Junkies
If you're a basketball junkie, you're loving this time of year…..and, in particular, you loved this past week of college hoops. I know that this is a small college blog, but did you see the passion of the fans when Michigan went to Indiana?  From the game day broadcast through the game, the place went nuts.  How about the student hitting the halfcourt shot to win $18,000?!  The...
Anonymous asked: Are there any small colleges in desperate need of players?
5 tags
Keith Lawrence
The text I received this evening from Robert Morris (IL) Coach Al Bruehl simply said, "Did you hear about Keith Lawrence"? I hadn't, and I called Coach Bruehl.  Keith Lawrence played for Concordia (CA), and gained quite a bit of fame for his shot and his role in one of college basketball's finest tournament games, the famous quadruple overtime thriller in the 2007 NAIA...
Taylor's Silent NIght →
I know that I've sent this around through social media in the past, but it's just awesome to see a small college basketball program get so much positive attention, as this video now has more than 1.7 million views from the 2012 Silent Night game.  What a great tradition for Taylor University!
23 tags
The World of Small College Basketball on February...
Today was a great day for a basketball junkie.  After coaching my son's two games today, I enjoyed watching Columbia College play at Park University this afternoon. I got home to watch the Michigan vs. Indiana game, then was able to watch Sportscenter for various highlights….and then got on the internet to catch up with the Small College Basketball action for the day. Here's a...
1 tag
"D-III Love" →
Thank you to Jeff Pearlman for taking the time to write about NCAA Division III basketball.  I went to school at the University of Delaware at the same time as Jeff, and he went onto become a very prominent national writer for Sports Illustrated, including writing multiple cover stories.  He's now written several prominent books and writes a popular blog.  Because of Jeff's popularity...
7 tags
Milestone Wins
Congratulations to the following coaches who have had recent milestone wins: Josh Schertz, Lincoln Memorial (TN)                 Win #100 Gerald Holmes, Bloomfield (NJ)                         Win #200 Jeff Sherman, Central Methodist (MO)              Win #500 Keith Dickson, St. Anselm (NH)                         Win #500 Tom Klusman, Rollins (FL)                                Win #600 ...
2 tags
Martin Luther King Day & Clarence Walker
Monday was, of course, Martin Luther King Day. For the last two years, just prior to MLK Day, I've gotten a call from a television station seeking information about the Clarence Walker story……and for two straight years, I've enjoyed telling the story once again.  Thank you to ESPN and to Niles Media for reaching out to keep one of America's great collegiate...
750 Wins for St. John's (MN) Coach Jim Smith →
St. John's (MN) Coach Jim Smith earns win #750 in his 49th year as the school's Head Coach.  Congratulations, Coach Smith!
6 tags
Sunday thoughts in late January......
Just a bunch of recent notes and thoughts on Small College Basketball: *  Congratulations to the College of Charleston on their recent defeat of NCAA Division II #1 West Liberty State.  Charleston did what only four other teams have done in the past three years: Beat West Liberty State.  With their 101-96 win on January 14, they join BYU-Hawaii, Stonehill, Wheeling Jesuit and Findlay as the only...
Anonymous asked: John, I was a long time High School head coach - 11 years in Arkansas, 9 years in Tennessee, 4 years in Ohio (where I'm actually from) - and I'm now in my 2nd year as a volunteer assistant at NAIA Shawnee State University in Portsmouth, Ohio. Jeff Hamilton is our head man - an excellent man to work for and with - and I have grown to love this level of basketball. Question: do you have...
Today's Reminder Of Why I Enjoy This Game So Much
Today, I was reminded of why I enjoy small college basketball so much - again.   Scott McMillin, Head Coach at Lynn University (FL) called to catch up this afternoon.  Coach McMillin really works at the game and has a passion for coaching.  I love the enthusiasm in his voice.  Then, I headed out to watch Baker at Benedictine this evening.  I walked in at the very end of the women's game,...
6 tags
Random Notes on Small College Basketball
Congratulations to Rollins Coach Tom Klusman on his 600th win! Klusman is now 600-332 in his 33rd year leading the Tars program. His first victory was a 95-73 win over Webber College on Dec. 4, 1980. The 1976 graduate of Rollins is the 15th coach in Division II history to reach the milestone and just the fifth among active coaches. Across all divisions, all-time, only 68 have accumulated 600...
We're in the heat of the season.......
Dear Basketball Fans: While I know that the end of the basketball season is when the casual fans really pay attention. That's when the conference and national tournaments roll around, and fans are excited about getting out to games, watching on television or glued to their computers. Obviously, I love that time of year, and there's a great thrill and excitement in the air at...
7 tags
Random Thoughts on Small College Basketball
A bunch of random notes and thoughts about Small College Basketball: * Jack Taylor from Grinnell. You remember him, as he's the player that scored 138 points in a game earlier this season.  Just wanted to give a quick update on him and his team.  The team is now 8-2 on the season, and he's averaging 37.7 ppg, while playing just 17.4 minutes per game.  [[MORE]]* There are now a small...
Random Thoughts and Information on Small College...
Random thoughts and information on Small College Basketball: *  Thank you to all of those SID's and others that continue to send information about their programs and/or various information about college basketball within the small college realm. Much appreciated. *  Thinking of Small College Basketball, I just want to clarify: I consider Small College Basketball those schools that are...
Dick Vitale: The Man Who Never Gave Up
Here's what you may not know about Dick Vitale: I was in college, working a summer job, and I got on a phone from the office (name of the company purposely not mentioned) and called someone (also not mentioned on purpose) who gave me Dick Vitale's home number. I've been a junkie for a long time, so I decided to write my own college basketball preview - I called it the...
Small College Basketball
A few reminders about Small College Basketball. If you're not already taking the RSS feed for this blog, please do so. Just click on the button on the right side of this blog (you may need to scroll down a little bit), and then enter your e-mail address. You will then be able to receive automatic updates. Also, please remember to follow Small College Basketball on Facebook at...
Making a Difference
Recently, I've found out that I made a difference for others, and it's hard to describe the feeling, but it's pretty special. When I speak, my goal is to move people to the point where they take action and genuinely "do" something to make a positive change in their lives…..which, in turn, will positively effect others. It's a fairly lofty goal....
Dr. James Naismith
Sometimes I wonder what Dr. Naismith would think of our game (his game) today.  As you probably know, Dr. James Naismith was born in Canada, and eventually moved to Springfield, Massachusetts.  He created the game, and the original 13 rules, in 1891 at a YMCA in Springfield.  He was a highly intelligent, educated, humble man.  Eventually, he became the first basketball coach at the University of...
Thoughts on Small College Basketball, from Coach...
I just had a nice note from Coach Del Harris, and he shared some of his thoughts on Small College Basketball, and some of the wonderful coaches involved in our game.  With his permission, I wanted to share them with you…… "Having coached at every level—from Junior High to NBA and five different FIBA national teams over a 53 year career touching on seven decades, I have...
Small College Coaches
I have written about the incredible careers of some of the winningest college basketball coaches that coach at the small college level.  For example, I've mentioned Harry Statham (McKendree), Danny Miles (Oregon Tech), Herb Magee (Philadelphia), Don Meyer (Hamline, David Lipscomb and Northern State) and Glenn Robinson (Franklin & Marshall).  They are each among the winningest four-year...
Thoughts on the David Stern - Gregg Popovich... →
By now, I'm sure that you've noticed that the intent of this blog is to promote small college basketball.  My intent is not to be part of the mainstream media, but rather a positive voice for those coaches, players, teams, programs and part of basketball history that often gets overlooked.  I am conscious of the positions that I've held within college basketball, and I'm...